Could it really be true... a mobile app for the iPad, the iPhone and iPod based on the MacLarry and the Stinky Cheese Battle DVD? You bet your lavender tube socks! Join MacLarry and his friends as they take on Pompous Maximus, in this interactive extravaganza based on the VeggieTales classic - 
MacLarry & The Stinky Cheese Battle
.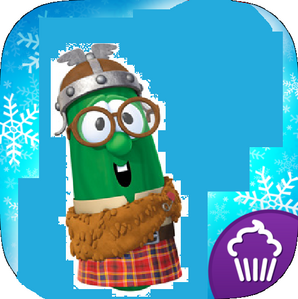 Levels
The Prank Feud Begins (Reach for the Sky!)
A Worse Haircut Line
Red Alert!
MacLarry's Ego-Check
Revenge of the Romans
Run for Your Lives!
Pompous's Roman Amphitheater Showdown
Battle of the Mutant Veggies
MacLarry is Imprisoned!
Call 911!
Roman Chase
The Smelly Cheese!!!
The Prank Fight Ends
A Happy Ending in Scotland (God Has Made Our Differences)
Features
Follows MacLarry and friends through the movie complete with video scenes and vibrant storytelling through colorful comic book-style pages in-between each act!
Have exciting conversations with MacLarry as you help him along the way
Don't miss the "MacLarry" Activity Center where you can try to answer the picture word puzzles, build some exciting gadgets with MacLarry, choose the correct jelly jar for a special treat, smash tasty candies, create and send your own MacLarry greeting cards, and color your Veggie friends with buckets of paint, brushes, stickers and more.
As you explore MacLarry's homeland, keep your eyes open for extra Silly Songs.
Awesome soundtrack and sound effects straight from the movie
Earn Courage Coins along the way
See MacLarry in a hilarious Silly Song "Kilts and Stilts".
Ride MacLarry through a sea of hostile Romans, defeat the dreaded "Cheese of Attila", use MacLarry to ward off mutant Scottish vegetables, escape from Pompous Maximus and his gang, and many more!
Ad blocker interference detected!
Wikia is a free-to-use site that makes money from advertising. We have a modified experience for viewers using ad blockers

Wikia is not accessible if you've made further modifications. Remove the custom ad blocker rule(s) and the page will load as expected.