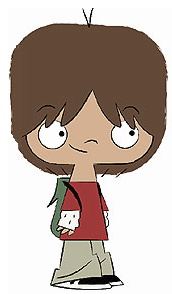 Mac Foster is a bright and somewhat shy 8-year-old boy who visits Foster's. He almost always seems to know what to do when there is a problem. Mac becomes extremely hyperactive to the point of a rabid mania if he eats sugar; once in this state, he will often become obsessed with seeking any other source (and will also sometimes run around naked letting things hang out or in his underwear). Mac also has a crush on Frankie. He is voiced by Sean Marquette.
Bio (Do not edit!)
Species: Human
Age: 8
Hair Color: Brown
Clothing: Red Shirt, White Sweater, Green Backpack, Brown Pants, Black Shoes
Counterparts
Ash Ketchum (Pokemon)
Kristoff or Olaf (Frozen (2013))
Charles Deetz or Adam Maitland (Beetlejuice)
Casper (Casper)
Frank Bannister (The Frighteners)
Willy the Bee (Maya the Bee/Movie)
Ad blocker interference detected!
Wikia is a free-to-use site that makes money from advertising. We have a modified experience for viewers using ad blockers

Wikia is not accessible if you've made further modifications. Remove the custom ad blocker rule(s) and the page will load as expected.