Jose Luis Macario Diaz Hernandez, alias Coronel Macario, es un general venezolano, que hace videos humoristicos acerca del gobierno de Hugo Chavez, y tambien es conocido por ser el segundo alcalde de Grosheiber en 1989 hasta 1993, y desde 1993, hasta 1997.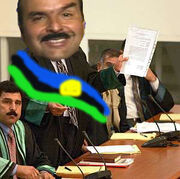 Alcalde de Grosheiber 1989-1993
Fue elegido como Alcalde de Grosheiber por el partido CUDEIRO, y apoyo firmemente al Presidente Manuel Cudeiro.
En su primer periodo como alcalde de Grosheiber, empezo con el Plan NO MAS BASURA, con el cual se vio por primera vez en su Alcaldia, viendo a los camiones recogiendo la basura,y despues llendo al basurero, tambien saco el Plan Antirrupcion con el cual destituyo a los policias, y a todos de su gabinete quienes eran corruptos, y logro sacar la corrupcion de Grosheiber, tambien hizo obras de infraestructura, como la Torre Grostorre, con el cual es la torre mas alta de Grosheiber, y todo iba bien hasta que en 1993, fue el primer alcalde de Grosheiber Re-electo, por el Partido CUDEIRO.
Segunda Alcaldia 1993-1997
En su segunda alcaldia, tuvo que enfrentar a los delincuentes, y a los mafiosos que rondaban en Grosheiber, por lo cual armo hasta los dientes, a los policias para acabar con los narcotraficantes que andaban, por ahi y los encarcelaban en la carcel central, despues de una ajetreada vida de alcalde, en 1997, se fue de la Alcaldia de Grosheiber, entregando el puesto al segundo alcalde reelecto Edgar Yepez.
Retiro de la politica
El coronel Macario, a pesar de haber nacido en Venezuela, se tuvo que ir a su pais, para hacer un canal de youtube llamado Coronel Macario, con lo cual presenta sus videos a los "venezolanos todos arrechos y cuatriboleaos !NO JODA!", por lo cual ese es su saludo cuando presenta un video, despues se hizo un rumor de que volveria a la Alcaldia por un tercer periodo, por lo cual desmintio los rumores, y dijo que no se volveria a lanzar a la alcaldia de Grosheiber otra vez.
Vea al ex- alcalde en
http://www.youtube.com/user/coronelmacario
2do Alcalde de Grosheiber
Precedido por:
Sr Gato
Macario Diaz
1989-1993
1993-1997
Sucedido por:

Ad blocker interference detected!
Wikia is a free-to-use site that makes money from advertising. We have a modified experience for viewers using ad blockers

Wikia is not accessible if you've made further modifications. Remove the custom ad blocker rule(s) and the page will load as expected.