Jimmyandfriends's movie-spoofs of "Madagascar"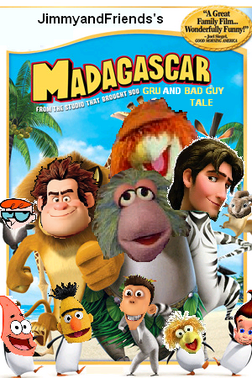 Cast:
Wreck-It Ralph as Alex the Lion
Flynn Rider (Tangled) as Marty the Zebra
Boober Fraggle (Fraggle Rock) as Melman the Giraffe
Mokey Fraggle (Fraggle Rock) as Gloria the Hippo
Sheen Estevez (Jimmy Neutron) as King Julien
Dexter (Dexter's Laboratory) as Maurice
E.B. (Hop) as Mort
Jimmy Neutron as Skipper
Patrick Star (Spongebob Squarepants) as Rico
Bert (Sesame Street) as Kowalski
Wembley Fraggle (Fraggle Rock) as Private
Slim and Heimlich (A Bug's Life) as Mason and Phil
Hyenas (The Lion King) as The Foosas
Ad blocker interference detected!
Wikia is a free-to-use site that makes money from advertising. We have a modified experience for viewers using ad blockers

Wikia is not accessible if you've made further modifications. Remove the custom ad blocker rule(s) and the page will load as expected.