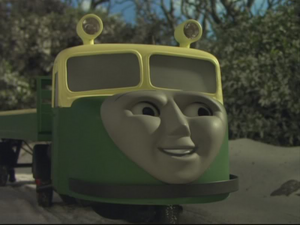 Madge
is a snub-nosed white and light green truck with a three-wheeled cab and a flatbed. What she lacks in elegance, she makes up for in strength and personality. She is the prime organizer of the little engines but she can be playful and loves a joke. Her first appearance was in the episode "Cool Truckings" in Season 11's special narrow-gauge VHS/DVD.
Appearances
Major Appearances
Season 11
Cool Truckings
Wash Behind Your Buffers!
Specials
Theme
Madge doesn't have a theme
Counterparts (Thomas Version)
Counterparts (Skarloey Version)
Emily or Mavis (Thomas the Tank Engine and Friends)
Lillie Lightship or Sally Seaplane (TUGS/Salty's Lighthouse)
Stacy Jones or Kara (Shining Time Station)
Princess Peach or Princess Daisy (Super Mario Bros.)
Princess Sally Acorn, Amy Rose or Sonia (Sonic the Hedgehog)
Lanolin or Penelope (Garfield and Friends)
Kimi Watanabe Finster, Susie Carmichael or Lil DeVille (Rugrats)
Marge Simpson or Luanne Van Houten (The Simpsons)
Lois Griffith or Dr. Amanda Rebecca (Family Guy)
Sally or Flo (Cars 1 & 2)
Sergeant Calhoun or Deanna (Wreck-it Ralph)
Princess Sherry (Rocket Knight Adventures)
Gallery
Ad blocker interference detected!
Wikia is a free-to-use site that makes money from advertising. We have a modified experience for viewers using ad blockers

Wikia is not accessible if you've made further modifications. Remove the custom ad blocker rule(s) and the page will load as expected.