Originally built for the Maine Central Railroad, 501 is currently owned by the 470 Railroad Club.[6] This locomotive was at one time under restoration for operation on the Conway Scenic, but the plan was stopped in 2007. 501 is on display next to the turntable in North Conway and has undergone a cosmetic restoration.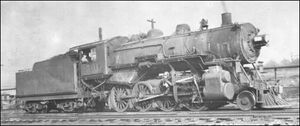 Ad blocker interference detected!
Wikia is a free-to-use site that makes money from advertising. We have a modified experience for viewers using ad blockers

Wikia is not accessible if you've made further modifications. Remove the custom ad blocker rule(s) and the page will load as expected.