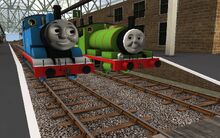 Make Someone Happy is the third book of The Railway Series Continues and is the first book to have a song from the television series that is only on CD.
Previous Book: Really Useful Thomas. (January 29th, 2015)
Next Book: Races, Rescues and Runaways. (February 19th, 2015)
Message
Hello Friends,
Today on our own next adventure on this book, I had made four stories and last week i did three of them unlike the Railway Series and the first TRSC book, and further more, We see Thomas and James make someone happy to cheer a friend up and have the Fat Controller help Mrs. Kyndley out with her sad expression, and see Percy get a special surprise with some freight cars when his troublesome load rolls down the hill and make up for lost time with a ram when Percy was on his way, and Tune in for the stories.
Signed, The Fat Director.
Stories
Make Someone Happy
James and Thomas try to think of something to cheer Mrs. Kyndley up to a "mystery tour".
A Very Sad Percy
Percy had been working in the coal mines for several weeks and was feeling miserable.
Percy and the Runaway Trucks
When Percy had a bright idea to come up with something to cheer himself up, he asks the trucks to make a surprise for him, things were fine at first, but something happens when the trucks had to play a trick.
Toby, Percy and the Ram
Percy was tired of the smell of fish and heads off to Tidmouth, and the Fat Controller announced to have a best station competition, the next day, Percy meets up a ram who manages to help out when a station is trashed.
Songs
That's What Friends are For - Mike O Donnell and Junior Campbell.
Every Cloud is Silver Lined - Mike O Donnell and Junior Campbell.
Thomas Anthem - Mike O Donnell and Junior Campbell. (intermission after story only)
Thomas and Percy, Blue and Green - Sam Blewit. (intermission only)
Characters
Thomas
Percy
Oliver
James
Harold
Duck
Toby
Mrs. Kyndley
The Fat Controller
Troublesome Trucks
Bertie
Henry
Edward
Toad (cameo)
Donald and Douglas (cameo)
Stepney (cameo)
Characters introduced
Tigermoth (does not speak).
Quotes
My favorite station is Knapford. - Edward.
My favorite is Ffarquhar - Thomas.
Mine is Maithwaite. - Toby.
Oh, Toby. I will tell you what, Mine will be Tidmouth. - Duck.
Ad blocker interference detected!
Wikia is a free-to-use site that makes money from advertising. We have a modified experience for viewers using ad blockers

Wikia is not accessible if you've made further modifications. Remove the custom ad blocker rule(s) and the page will load as expected.