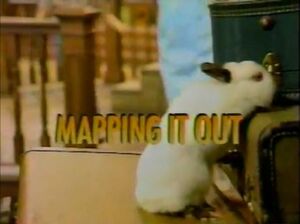 The kids find a rabbit at the station. Harry says that a rabbit cage was in the lost and found, so he puts him in the cage. A man named Pepe asks Harry for directions. This makes Stacy realize that the station should get a map. Matt asks Mr. Conductor if the engines on Sodor ever get lost. He explains that if they're on rails, they don't usually get lost, but can runaway down the line. Stacy wants to get some food for the rabbit, so she leaves, warning the kids not to go anywhere. Schemer arrives and makes fun of the kids map until he finds out that the map is for the Indian Valley Railroad. Schemer says they should take a train down the line, marking the map as they go along. Mr. Conductor then warns Matt not to go, but Tanya says it will be fun. Schemer then pulls Matt to the platform as the train arrives and all three are off - when Schemer drops the map. Stacy arrives, but can't find them anywhere. Harry finds out, and they're very worried. Mr. Conductor tells them what happened. Harry waits on the platform, while Mr. Conductor tries to cheer Stacy up. They both look at Schemer's map and Twidly Junction is circled. After calling there, they find out that's where Matt, Tanya, and Schemer are. When they get back, everyone is thankful to see each other, while Schemer is still on the train. Stacy and Harry warn them to ask an adult's permission before leaving.
They then talk to Mr. Conductor, who tells them it's fun to go exploring, but you need to be aware of the consequences. Later, Schemer is brought back by a man named Pepe, who says he is lost. Pepe talks about where he is from and it turns out he's from Ecaudor. After, Stacy hangs the newly finshed map and Mr. Conductor takes the rabbit to a new home.
Puppet's friend, Mary Annette, is coming into town and Heathcliff's very excited. He sends Shane and David to pick her up from the airport, but the thing is.... where's the airport? Shane and David first go into a bird's nest, where they find eggs. Meanwhile, Puppet tries to make his annual Puppet family welcome song as good as he can, but feels it isn't good enough. They then go to a bridge where they find paper airplanes, so the two guess that might be the airport. Suddenly, Mrs. Foil comes to tell them they are only paper airplanes, and Mrs. Foil is also sad because her own paper airplane has fallen down the bridge and into the nearby island. Shane and David recruit the Action Fingers to fetch it. They do, and Mrs. Foil is happy again. They finally go to a room where a girl uses sign language to tell them they are in the Word Room. They, at last, find the airport, and do their usual fooling around before finding Mary Annette. When they do, Puppet sings his welcome song to Mary Annette and the episode ends.
CharactersEdit
Thomas storiesEdit
Jukebox Band Segment SongEdit
Cartoons & SongsEdit
Ad blocker interference detected!
Wikia is a free-to-use site that makes money from advertising. We have a modified experience for viewers using ad blockers

Wikia is not accessible if you've made further modifications. Remove the custom ad blocker rule(s) and the page will load as expected.