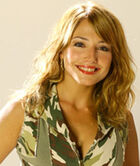 María Elena Sweet es una destacada actriz chilena.
Trayectoria
Pertenece al área dramática de Canal 13, donde ha participado en las últimas teleseries de esa estación televisiva, tales como Descarado con su rol de Verena, Hippie como Magdalena Arrieta, Brujas como Cassandra y la popular Machos como Fernanda Garrido. Actualmente participará de Papi Ricki, la nueva teleserie de Canal 13.
Además, participó de la serie Más que Amigos el año 2003.
Ha participado en Cine en las películas Xs: La peor talla y El nominado, entre otras.
Filmografía en foronovelas
Ad blocker interference detected!
Wikia is a free-to-use site that makes money from advertising. We have a modified experience for viewers using ad blockers

Wikia is not accessible if you've made further modifications. Remove the custom ad blocker rule(s) and the page will load as expected.