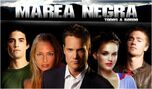 Ficha
Título: Marea Negra
Slogan: Todos a Bordo
Autor(es): Nicomedes
Género: Drama, suspenso, terror.
Protagonistas: María Elena Swett (Javiera), Natalie Portman (Rosario), Chad Michael Murray (Camilo), Milo Ventimiglia (Sebastián), Brian van Holt (Gustavo), Mischa Barton (Ester).
Breve reseña: Un grupo de jóvenes se interna un barco que los lleva por una serie de misterios e historias terroríficas.
Historia
El año 2005, Javiera Fuentes (María Elena Swett) y Rosario Hurtado (Natalie Portman) salen del colegio, y se preparan para su vida universitaria. El problema, es que ellas viven en el archipiélago Juán Fernández (Chile), y para entrar a la universidad, deben viajar al continente. Es así como un buque de la Armada es el responsable de trasladarlas junto a todos quienes hacen lo mismo. Pero en febrero de 2006, cuando llega su momento de subirse al buque, son engañadas y suben a un barco robado y transportador de drogas, liderado por el villano Gustavo Santelices (Brian van Holt).
Al interior del buque, las chicas se dan cuenta que algo extraño sucede, una fuerza natural las persigue. Pero se unen a Camilo Fuenzalida (Chad Michael Murray) y Sebastián Barros (Milo Ventimiglia), quienes habían salido de la isla dos años antes. Luego descubren que esta fuerza se trata de Ester (Mischa Barton), una antigua compañera suya a la que siempre molestaron por ser fea, pero que hoy ven casi como modelo. Ella ha vuelto a vengarse y este buque parece ser su escenario perfecto.
Elenco
María Elena Swett - Javiera Fuentes
Natalie Portman - Rosario Hurtado
Brian van Holt - Gustavo Santelices
Mischa Barton - Ester Tagle
Chad Michael Murray - Camilo Fuenzalida
Milo Ventimiglia - Sebastián Barros
Melinda Clarke - Isabel Salazar
Tiago Correa - Fahín Campos
Heath Ledger - Daniel Domínguez
Katie Holmes - Carmen Zapata
Carmen Diza Gutierrez - Carolina Domínguez
Leonardo Perucci - Pedro Fuentes
Kelly Rowan - Martina Rodríguez
Peter Gallagher - Roberto Hurtado
Curiosidades
"Marea Negra" obtuvo el sexto lugar, entre 12 foronovelas, en un concurso llamado "Foronovela del Siglo", del sitio chileno Fotech.cl.
Enlaces para leer
Ad blocker interference detected!
Wikia is a free-to-use site that makes money from advertising. We have a modified experience for viewers using ad blockers

Wikia is not accessible if you've made further modifications. Remove the custom ad blocker rule(s) and the page will load as expected.