Ficha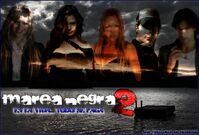 Título: Marea Negra 2
Slogan: Todo en la vida... Se paga
Autor(es): NicomedeS
Género: Drama, suspenso, terror.
Protagonistas: María Elena Swett (Javiera), Brian van Holt (Gustavo), Tiago Correa (Fahín), Katie Holmes (Carmen), Heath Ledger (Daniel), Anna Faris (Elisa), Mariana Derderian (Clara).
Breve reseña: Luego de 5 años de la tragedia al interior del buque, Javiera debe viajar, junto a Gustavo, a reportear extraños sucesos en la ciudad de Chañaral (Chile, norte). Al llegar, no encuentra a nadie más que Fahín (Tiego Correa), Carmen (Katie Holmes) y Daniel (Heath Ledger).
Historia
Hace cinco años, un grupo de cuatro chicos debieron enfrentarse a un gran villano, dueño de un buque que los trasladó por distintos mares, con el único propósito de hacerlos trabajar arduamente. Allí, otro grupo de 4 villanos estaban en contra de Gustavo, el "dueño", pero uno de ellos murió, y los tres sobreivientes quedaron con sed de venganza.
Hoy, año 2007, Javiera Fuentes, una de esos secuestrados, vive feliz su vida como periodista, esperando el día en que Gustavo salga de prisión y cumpla su promesa: casarse. Pero se le ha encomendado una misión: reportear extraños sucesos en la gente y el mismo pueblo de Chañaral (Chile, norte). Javiera acepta y decide viajar con Gustavo.
Allá se encontrarán con una serie de problemas. Una misteriosa chica que obedece al mal, pero quiere el bien (Clara). Fahín, Daniel y Carmen, los villanos con venganza, han regresado y preparan su mejor artillería en un pueblo que misteriosamente está desierto.
Elenco
Maria Elena Swett es Javier Fuentes
Brian van Holt es Gustavo Santelices
Tiago Correa es Fahín Campos
Heath Ledger es Daniel Domínguez
Katie Holmes es Carmen Zapata
Anna Faris es Elisa Sandoval
Mariana Derderian es Clara Pérez
Milo Ventimiglia es Sebastián Barros
Natalie Portman es Rosario Hurtado
Capítulos
[2x01] Fénix (03 de Marzo)
[2x02] ¿Qué será? (Estreno: 10 de Marzo)
[2x03] Escondite (Estreno: 17 de Marzo)
[2x04] Por confirmar
[2x05] Por confirmar
[2x06] Por confirmar
[2x07] Por confirmar
[2x08] Por confirmar
Curiosidades
Natalie Portman y Milo Ventimiglia están considerados en el casting, pero sólo como personajes secundarios, que aparecerían en algunos capítulos.
El primer capítulo tomó 2 meses en escribirse, ya que debió sufrir varios cambios de último minuto. NicomedeS lleva escritos cuatro espisodios.
En un principio, la serie no tendrá más de 8 capítulos.
La fecha de estreno es el 3 de marzo de este 2007.
Mariana Derderian se incorporará a la serie recién en el segundo capítulo.
Spoils
En el primer capítulo, Javiera Fuentes tiene una fogoza escena en el desierto con su futuro marido, Gustavo.
Aunque nadie lo sabe aún, habrá un misterioso personaje que hará sufrir a todos, incluyendo los villanos.
Para Leer
Ad blocker interference detected!
Wikia is a free-to-use site that makes money from advertising. We have a modified experience for viewers using ad blockers

Wikia is not accessible if you've made further modifications. Remove the custom ad blocker rule(s) and the page will load as expected.