Marie is Sanrio's character debuting in 1983 the character is a pink rabbit with a ribbon bow on her head and in some places of her body, including her left paw, ears, right feet and tail. She is a very fashionable girl who likes to sing and dance. Her mother is a fashion designer and she designed the ribbon on her head, which is her charm point. She dreams of becoming a fashion designer, just like her mother.
Marie is a ribbon rabbit, she is pink, smart and honest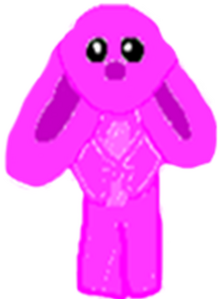 Ad blocker interference detected!
Wikia is a free-to-use site that makes money from advertising. We have a modified experience for viewers using ad blockers

Wikia is not accessible if you've made further modifications. Remove the custom ad blocker rule(s) and the page will load as expected.