Ad blocker interference detected!
Wikia is a free-to-use site that makes money from advertising. We have a modified experience for viewers using ad blockers

Wikia is not accessible if you've made further modifications. Remove the custom ad blocker rule(s) and the page will load as expected.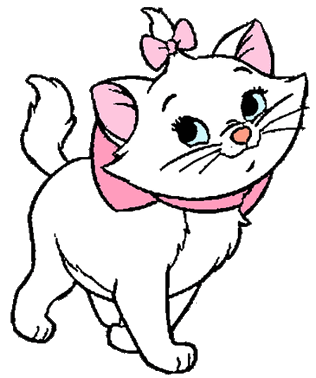 Marie is a White Kitten from The Aristocats. He is one of
Danny
and
Sawyer
's Daughter.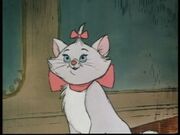 As A Main Character
She is a Likely Female Kitten in Kittens in Wonderland. in Tod Pan and its sequels She is John Darling aka Thomas O' Malley Cat's Daughter Named Wendy aka Marie and Later she Was an Adult Named Sawyer aka Adult Wendy.
Oliver Meets Marie, He Follows Her.
Oliver Saves Marie's Life, Shere Khan Battles Oliver.
As Princess Jasmine in Olladdin and Its sequels
She is a Princess in Those sequels.
As Young Nala in The Cat King and its Sequel
She is Sarabi aka Duchess' Daughter in law in this Movie, In the Second Movie She was seen During Timon and Pumbaa aka Tigger and Winnie the Pooh telling her To Fight Back the Hyenas.
As Ariel in "The Little Kitten"
Marie saves Oliver from drowning. Makes a deal with Belladonna aka Ursula to become a human to be with Eric. She defeats Sagwa aka Vanessa and marries Oliver in the End.
Belle in "Beauty and The Deer
Oliver(Oliver &Company) gets turned into The Great Prince of the forest aka a beast. To break the spell she must fall in love with the Great Prince and she does eventually. After defeating Prince John aka Gaston The Great Prince dies and then becomes Oliver after Marie declares her love ind the end she gets married to Oliver.
Nobita aka Taran losts his kitten Marie aka the pig Hen Wen and finishes in Hades aka Horned King's Castle. Marie gets kidnapped by the Dragons who going to Horned King's Castle.
As Angel in "The Danny and The Sawyer"II Oliver's Adventure" Oliver runs away from home to get to Marie(Angel) and her stray cat pals. They eventually become a couple. And Marie gets to join Danny and Sawyer's family with Oliver.
[[As Madilen in The Kitten of Norte Dame II Quadsimodo aka Oliver rescues the forlorn Madilene aka Marie and marries her at the end
[[As Charlie in Good Luck Marie
[[ As Young Odette in The Fox Princess
[[As Shizuka in Merlemon
[[As Janie in Toon Animal Story
[[As Ellionwy in The Rainbow Cauldron
[[As Snow White in Marie and the Seven kids
[[As Cinderella in Marierella
[[As Tanya Mousekewitz in An American World and its sequel
[[As Princess Aurora in Sleeping Little Kitten
[[As Mulan in Marielan
[[As Wendy Darling in Nobita Pan
[[As Pocahontas in Mariehontas
[[As Piglet in Doraemon the Pooh
[[As Maid Marian in Oliver Hood
[[As Megara in Olivercules
[[As Pingi in Olingu
[[As Madame Mim in The Sword in the Roc
[[As Mandy in Fireman Basil
[[As Bianca in The Rescuers (Ver. 505) and The Rescuers Down Under (Ver. 505)
[[As Anastasia in Mariestasia
[[As Jenna in Olivbalto
[[As Lady in Marie and the City Kitten
[[As Baby Herman in Who Framed Nobita Nobi?
[[As Vixey in The Fox and the Kitten
[[As Princess Tiger Lily in Oliver Pan
[[As Cera in The Land After Time
[[As Dinah in Shizuka in Wonderland and Wendy in Wonderland
[[As Alice in Marie in Wonderland
[[As Penny in The Rescuers (Mathemathics Style Version)
[[As one of Flo's Puppies in All Cats go to heaven (Math98 style version)
[[As Hannah Philips in Kid Story
[[As Flo in Patch's Puppy Days
[[As Wanda in Fairy Odd Kittens
[[As Penny in 101 Kittens (Ver. 101)
[[As Emily in Oliver the Woodpile Cat
[[As Rapunzel in Mariepunzel
[[As Julie Banks in Shizuka Poppins
[[As Mary Poppins in Marie Poppins
[[As Daisy Duck/Isabelle in Oliver's Christmas Carol
[[As Hannah Montana in Marie Montana
[[As Candace in Oliver & Berlioz (a.k.a. Phineas & Ferb)
[[As Young Faline in Oliver (a.k.a Bambi)
[[As Kim Possible in Marie Possible
[[As Pepper Ann in Pepper Marie
[[As Agnes in Despicable Me (Disney Version)
[[As Yumeko Kawai in Ninja Hattori (Disney Version)
[[As Peppa Ping in Marie Kitten (a.k.a Peppa Pig)
[[As Dora in Marie the Explorer
[[As Dorami in Olivermon
[[As Frog Tiana in The Princess and the Kitten
[[As Vanellope Von Schweetz in Wreck-it Gian
[[As Olivia in Olivereye
[[As Ariel in The Little Mer-Kitten
[[As Princess Kida in Atlantis - The Lost Empire (Ver. 505)
[[As Mittens in Patch (a.k.a Bolt)
[[As Lola Bunny in Looney Tunes (Ver.11)
[[As Celestine in Gian and Marie (a.k.a Ernest and Celestine)
[[As Kiki in Marie's Delivery Service
[[As Kitty in Shizuka's Delivery Service
[[As Miss Taylor in Oliver's Dinosaur
[[As Anna in Frozen (Euro-Vision style version)
[[As Hercules's Mother in Fievelcules
[[As Linnie McCallister in Home Alone (Disney-Fujiko Style)
[[As Sondra McCallister in Home Alone (Disney Animal Style)
[[As Minny in Rock-A-Goofy
[[As Young Lucky in Marie and Charlie (Lucky and Zorba)
Her Animated Crossovers Films