Marion
is a steam shovel from Thomas and Friends. She normally works at the Clay Pits with
Bill, Ben
and
Timothy
.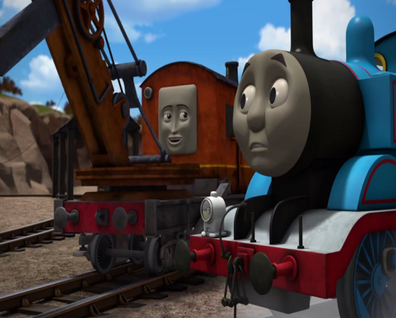 Basis
Marion is based on a rail mounted Marion Revolving Steam Shovel.
Livery
Marion is painted light brown with yellow lining.
Appearances
Episodes
Season 18 - Marion and the Pipe, No Steam Without Coal, Timothy and the Rainbow Truck, Marion and the Dinosaurs and Samson at Your Service (cameo)
Season 19 - Best Engine Ever and No Help At All
Season 20 - The Christmas Coffeepot and Over the Hill
Specials
Voice Actor
Merchandise
Wooden Railway
Take-n-Play
Mega Bloks
Motor Road and Rail (unmotorised; two-pack with Gator and Looking for Pounding Treasure Set)
Capsule Plarail
Thomas and Friends Adventures (coming soon)
Theme
Marion's Theme is The Hurry Season 17 Theme, Which She shares With Timothy
Counterparts
Gloria Cornwallis (Theodore Tugboat)
Pace (Chuggington) 
Stretch (Toy Story 3, Marion has eight wheels and Stretch has eight legs) 
Applejack or Pinkie Pie (My Little Pony: Friendship is Magic)
Lana (31 Minutes)
Marion the Blunder (Harror the Robot, Both shares the Same Name)
Betty DeVille (Rugrats)
Nurse Bosby (Maya the Bee)
Parodies
Ad blocker interference detected!
Wikia is a free-to-use site that makes money from advertising. We have a modified experience for viewers using ad blockers

Wikia is not accessible if you've made further modifications. Remove the custom ad blocker rule(s) and the page will load as expected.