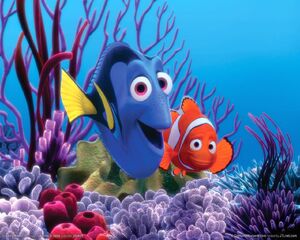 Marlin
is the clown-fish father of Nemo, appearing in the 2003 Disney/Pixar Film,
Finding Nemo
.
Finding Nemo
In Finding Nemo, Marlin had to rescue Nemo from Dr. Phillip Sherman, who lives in Sydney.
Counterparts
Ten Cents, Warrior or Big Mac/Big Stack (TUGS/Salty's Lighthouse)
Theodore, Digby or George (Theodore Tugboat)
Arnold, Harold Berman or "Big" Bob Pataki (Hey Arnold)
Doug Funnie, Bud Dink or Phil Funnie (Doug)
Bowser Junior, Mario, or Bowser (SuperMarioLogan)
Dr. Whooves, Mr. Cake or Big Macintosh (My Little Pony: Friendship is Magic)
Wilson, Chatsworth or Harrison (Chuggington)
Casey Jr., Alfred or Montana (Casey Jr. and Friends)
Diggs the Backhoe Loader, Carl the Crane or Lug the Dumptruck (Construction Site)
Jay Jay, Captain Bob or Big Jake (Jay Jay the Jet Plane)
Arnold or Mr. Spector (Busy Buses)
Cito (Tayo the Little Bus)
Orson, Odie, or Garfield (Garfield and Friends)
Gallery
Ad blocker interference detected!
Wikia is a free-to-use site that makes money from advertising. We have a modified experience for viewers using ad blockers

Wikia is not accessible if you've made further modifications. Remove the custom ad blocker rule(s) and the page will load as expected.