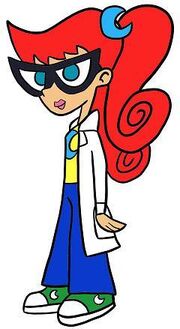 Marydike Test (voiced by June Foray) was a thirteen year old girl who was also the sister of Johnny and also the daughter of Hugh and Lila.
Appearance
Mary was seen wearing a light gray jacket over a yellow shirt, a light blue moon shaped barrette, navy blue pants, and green hi top shoes. She has red hair she has greenish blue blue eyes.
Alternate outfits
Her swimwear was a bright pink bikini and her alternate swimwear was a pink and orange bikini and her sleepwear was yellow pajamas and her alternate sleepwear was bright blue pajamas. As well as her disco outfit which was a bright purple tank top with pink shorts and bright gray shoes. And her western outfit was a yellow shirt with a pink bandana, navy blue pants, and brown cowboy shoes.
Ad blocker interference detected!
Wikia is a free-to-use site that makes money from advertising. We have a modified experience for viewers using ad blockers

Wikia is not accessible if you've made further modifications. Remove the custom ad blocker rule(s) and the page will load as expected.