Se você estava procurando o Mask of Ice do mangá, veja Leader Pryce
---
Mask of Ice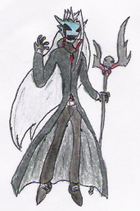 Nomes

| | |
| --- | --- |
| Nome Japonês | 氷のマスク |
| Romaji | Mask of Ice |
| Nome Definitivo | Mask of Ice |
Dados
Classe
Boss
Sexo
Masculino
Cidade
Desconhecida
Região
Johto
Equipe
Team Rocket
Ranking
Boss
Primeiro
capítulo
De Mal a Pior
Mask of Ice é o líder supremo da Team Rocket.
"
Let's match the poor ability of mere newbie trainers and mediocre leaders against the power of the grand Mask of Ice.
- O Segredo das Ruínas, Parte 2
"
Histórico
Mask of Ice foi citado em Team Rocket como chefe supremo da dita equipe, um impiedoso comandante. Sua primeira aparição foi em De Mal a Pior, quando surgiu repentinamente na Daiya Square para eliminar todos aqueles que podiam atrapalhar seu plano (o Manifesto Final). Depois de feito o que veio fazer, sumiu nas sombras sem deixar rastro.
Só voltou a aparecer em O Segredo das Ruínas, Parte 1 quando estava dentro das Ruins of Alph em busca dos misteriosos Unown, que poderiam agilizar seu esquema. Porém, foi detido por Taylor, Lilian, Hilary, Spyrus, Trent, Bugsy e Falkner, que selaram os Unown de uma vez por todas nas Inscrições Sagradas. Depois disso, destuiu as Ruínas e desapareceu novamente.
Não se sabe quando retornará.
Pokémon
Equipe principal
Já teve

Dados
Idade: Por volta de 30. Tornou-se chefe da Team Rocket há cinco anos.
Cabelo: Desconhecido.
Olhos: Desconhecidos.
---
Ad blocker interference detected!
Wikia is a free-to-use site that makes money from advertising. We have a modified experience for viewers using ad blockers

Wikia is not accessible if you've made further modifications. Remove the custom ad blocker rule(s) and the page will load as expected.