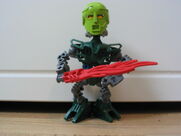 Mataiti on vihreä Metru Matoran, joka kuului aikoinaan Matoran Hordikan armeijaan. Kun armeija hajosi, hän, muiden mukana muutti rakentamaansa kylään Kenkä vuorien keskelle. Siellä hän ja muut asuivat onnellisina kunnes Lerahk kloonit myrkyttivät koko alueen. Vain Mataiti, Kauhkahu ja Pakri pelastuivat. Muut kuolivat. Sarjakuva maassa Mataiti liittyi
Baltan
Samrai kouluun ja pärjäsi aika hyvin.
Mataiti auttoi Henkkaa ja Tapiota seikkailuissaan ja tapasivat jälleen vanhan komentajansa, Matoran Hordikan vaikka he eivätkään paljastanet sitä muille.
Mataiti kantaa Tulimiekkaa, jolla pystyy polttamaan ja syöksemää tulipalloja.
Myöhemmin Paluu Bio-Maahan tarinan aikana Mataiti, Kauhkahu, Pakri, Ak, Matoran Hordika ja Miira vangittiin. He kuitenkin pääsivät karkuun suuren katastrofin aikana, jolloin Toatapio Nuva muuttui pahaksi.
Tällä hetkellä Mataiti on piilosa Kauhkahun, Pakrin, Akin, Matoran Hordikan ja Miiran kanssa.
Ad blocker interference detected!
Wikia is a free-to-use site that makes money from advertising. We have a modified experience for viewers using ad blockers

Wikia is not accessible if you've made further modifications. Remove the custom ad blocker rule(s) and the page will load as expected.