Maxie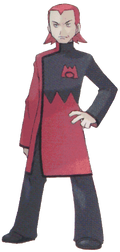 Arte de Ruby/Sapphire/Emerald
Nomes

| | |
| --- | --- |
| Nome Japonês | マツブサ |
| Romaji | Matsubusa |
| Nome Definitivo | Maxie |
Dados
Classe
Magma Boss
Sexo
Masculino
Cidade
Desconhecida
Região
Hoenn
Geração
III
Jogos
Ruby, Sapphire, Emerald
Equipe
Team Magma
Ranking
Boss
Primeiro
episódio
Gaining Groudon
Maxie (Japanese: マツブサ) é o Líder da Team Magma.
No Anime
Maxie aparece em dois episódios do anime: Gaining Groudon e The Scuffle of Legends. Quando Ash, Brock, May e Max caem no submarino Magma, Maxie tenta raptá-los para que não o atrapalhem a ativar a Blue Orb. Porém, enquanto se distraía tentando impedir os quatro a escapar de seu submarino, Pikachu junta-se à Blue Orb e Shelly consegue roubar o Kyogre que estava sob seu poder. Ele acaba num impasse, mas, no fim da guerra, aceita Hoenn como é, acabando com a Team Magma.
Nos jogos
Somente em Pokémon Sapphire, Maxie é um homem bom que quer impedir os planos de Archie de despertar Groudon. Em Pokémon Ruby e Emerald, Maxie é um tirano maligno que domina a Team Magma impondo suas condições. Batalha várias vezes com o personagem principal porque tenta com afinco destruir a Team Aqua, despertar Groudon e derrotar os personagens principais.
Pokémon
Pokémon Ruby
Primeira batalha
Segunda batalha
Pokémon Emerald
Primeira batalha
Segunda batalha
Terceira batalha
Em Pokémon Revolution
Maxie é um cientista que fundou a Team Magma para fazer pesquisas sobre meteorologia e química. Porém, ao descobrir o poder de Groudon, começou a imaginar como poderia usar o titã da terra para seus fins. Desde então, a Team Magma tornou-se um cruel e maligno império dominado pelo tirano Maxie, responsável pela maioria dos crimes de Hoenn. Até mesmo a Team Aqua teme a Team Magma, que, por ser formada por homens e mulheres da ciência, é de longe mais organizada que os piratas da Team Aqua. Courtney e Tabitha conseguem a Red Orb para Maxie e ele decide controlar também Kyogre, terminando a guerra entre os titãs e começando seu massacre. Ele absorve a força das duas Orbs, se tornando extremamente poderoso e controlando plenamente os titãs. Venceu Taylor e Archie, mas foi derrotado por Hilary e Rayquaza. No fim, se arrepende de seus atos e volta a ser um homem da ciência.
Pokémon
Já teve
---
Ad blocker interference detected!
Wikia is a free-to-use site that makes money from advertising. We have a modified experience for viewers using ad blockers

Wikia is not accessible if you've made further modifications. Remove the custom ad blocker rule(s) and the page will load as expected.