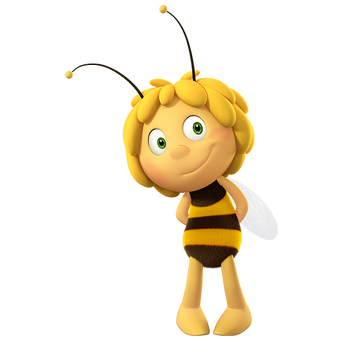 Maya Nessarose Kate Sabrina Madeline Edna Aliza Mimi Tiffany Prairie Janessa Claudia Colleen CJ Sunny Blaze Anastasia Mallory Mariah Cozi Edith Ginny Liz Mabel Storm Destiny Charlotte Bee is the the main protagonist of Maya the Bee Series. She was voiced by Andrea Libman (TV Series) and Coco Jack Gillies (Film). Maya is a little whirlwind who is only 7-years-old and very smart. She has green eyes and blond hair resembling to Rapunzel from the Disney animated movie, Tangled. She has a best friend named Willy who is voiced by Kodi Smit-McPhee. It is unknown where are Maya's parents but it was very possible The Queen could be her mother. Maya's full name is revealed in Maya The Bee 3: The Search for Maya's Parents, which has the voice talents of Mackenzie Follister, Kodi Smit-McPhee, Mary J. Blige, Beyonce, Christian Borle, Ewan McGregor, and Isaac Ryan Brown. 
Bio
Species: Bee
Fur Color: Yellow and Black
Friends/Allies: Willy (best friend, sidekick) Sting (best friend, husband), Stingy (daughter), Flip (good friend), Miss Cassandra, The Queen (mentor), Judge Beeswax, The Nurse, Bee Guards, Buzzlina Von Beena, Crawley, Kurt, Ben, Lara, Barry, Max, Beatrice, Shelby, Momo, Paul, Arnie and Barney, Hannah, Pat, Hank and his Hornets, Thekla (sometimes), Junior, Mother Lizard, Coco, Dear, Violet
Rivals: Hannah (formerly), Violet (formerly)
Enemies: Stinger, Deez and Doz, Thekla, Buzzlina Von Beena (formerly), Crawley (formerly), Hank and his Hornets (formerly), Pat, Violet (former rival), Mother Lizard (formerly)
Counterparts

 WARNING: You may add appropriate counterparts. But, do NOT delete any.