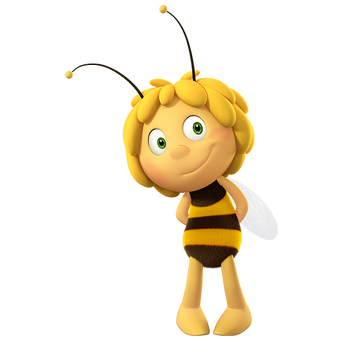 Maya the Bee was the the main protagonist of Maya the Bee Series. She was voiced by Andrea Libman (TV Series) and Coco Jack Gillies (Film).
Bio
Species: Anthropomorphic Bee
Fur Color: Yellow and Black
Friends/Allies: Willy (best friend ) Sting ( also her best friend) , Flip (good friend), Miss Cassandra, The Queen (mentor), Judge Beeswax, The Nurse, Bee Guards, Buzzlina Von Beena, Crawley, Kurt, Ben, Lara, Barry, Max, Beatrice, Shelby, Momo, Paul, Arnie and Barney, Hannah, Pat, Hank and his Hornets, Thekla (sometimes), Junior, Mother Lizard, Coco, Dear, Violet
Rivals: Hannah (formerly), Violet (formerly)
Enemies: Stinger, Deez and Doz, Thekla, Buzzlina Von Beena (formerly), Crawley (formerly), Hank and his Hornets (formerly), Pat, Violet (former rival), Mother Lizard (formerly)
Counterparts

 WARNING: You may add appropriate counterparts. But, do NOT delete any.