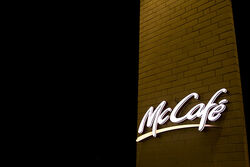 McCafé is a premium coffee line made by McDonald's. Although it is a small part of their Business Plan, there are over 1,300 stores that offer McCafé products, and most McDonald's in the United States are expected to sell McCafé products by Mid-2009. The Espresso Machines are made by Melitta.
Products Offered
As of 19:16, 6 December 2008 (UTC), McDonald's Offers:
All selections are available with Whole or Non-Fat Milk.
Espresso
Cappuccino
Latte
Iced Latte
Mocha
Iced Mocha
Hot Chocolate