Medicham
(Medit)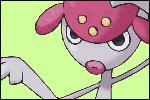 Desempenho
Lutas Oficiais
1
Vitórias
1
Derrotas
1
Aproveitamento
50%
Associado(a) à:
Medit é um dos participantes do Blast Battle - Torneio Pokemon.
História
Medit, como é conhecido, é primo em Off de um grande participante, Grovyle
Medicham apareceu na comunidade do Blast Battle - Torneio Pokemon durante o Blast Battle Tag! e pediu um amistoso, contra algum novato também. Como ninguém aceitou, ele chamou Hitmontop, um dos melhores lutadores do torneio, campeão da primeira edição, para lutar. "Top" aceitou, e perdeu. O juiz foi Red Game. Após esse amistoso, muitos começaram a considerar Medicham como um dos favoritos no Blast Battle IV, mas...
Blast Battle IV
O azar de Medicham foi enfrentar o veterano Togekiss logo na primeira fase. Lutou bem, e muitos até o consideraram o vencedor da luta. Porém, o juiz, Pedro Meowth julgou e Togekiss venceu a luta, e por 7 pontos de diferença (O quê foi muito contestado por várias pessoas)
Porém, Medit voltou na repescagem, para enfrentar Bian. Após um segundo round com erros, Grovyle e Plusle alertaram-o, mas ele entendeu que o estavam chamando de noob, e desisitiu. Meowth o convenceu a voltar, mas ele desistiu novamente.
Agora, na terceira fase, enfrenta novamente Togekiss, desta vez com mais experiência, para talvez, vencê-lo.
Ataques
Ad blocker interference detected!
Wikia is a free-to-use site that makes money from advertising. We have a modified experience for viewers using ad blockers

Wikia is not accessible if you've made further modifications. Remove the custom ad blocker rule(s) and the page will load as expected.