Megan Miyahira 
is a character from Kidsongs.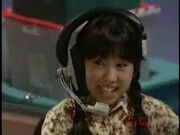 Counterparts (Do not delete, but you can add)
Madge (Thomas)
Baby Princess Peach (Mario)
Ribbon (Kirby)
Squilvia (Spongebob)
Ortensia (Mickey Mouse)
Lanolin Sheep (Garfield)
Iris (Mega Man X)
Edith (Despicable Me)
Two-Face Sewing Machine (The Brave Little Toaster)
Mary (Wreck-It Ralph)
Luci (Barney: 1-2-3-4-5 Sences)
Ad blocker interference detected!
Wikia is a free-to-use site that makes money from advertising. We have a modified experience for viewers using ad blockers

Wikia is not accessible if you've made further modifications. Remove the custom ad blocker rule(s) and the page will load as expected.