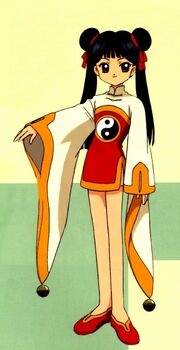 Meilin Rae
is Gary's love interest and Sakura's rival appearing in Cardcaptors. She has black hair with pink ribbons and red eyes. Her main outfit consists of: a dark red short long sleeved shirt, purple skirt, white pantyhose and black dress shoes. She is voiced by Nicole Oliver. At her age, she is 10 years old. At her prom dance with Gary, her prom outfit is composed of: a red sleeveless dress and red high heels. At Halloween, her Supergirl (Linda Danvers) ego is composed of: a white and blue long sleeved shirt, red skirt, red boots and red cape. While cheerleading, her cheerleader outfit is composed of: a red short sleeved shirt, red skirt, white socks and red sneakers.
Family
Susanna Rae (Mother)
Fergus Rae (Father)
Hanna Rae (Younger Sister)
Gary Oak (Love Interest)
Likes
Hanging out with Gary
Being popular
Becoming part of Lexi's team
Dislikes
Getting yelled at
Being ridiculous
Seeing Gary date Abigail Thompson (from The Nurse Angel)
Ad blocker interference detected!
Wikia is a free-to-use site that makes money from advertising. We have a modified experience for viewers using ad blockers

Wikia is not accessible if you've made further modifications. Remove the custom ad blocker rule(s) and the page will load as expected.