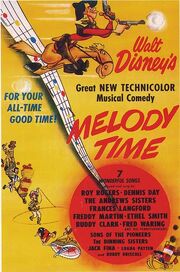 Melody Time (working title All in Fun) is the tenth full-length animated feature film in the Disney Animated Canon . It was first released on May 27, 1948 and was released Slue-Foot Sue (Disney character) to theatres by RKO Radio Pictures. Made up of several sequences set to popular music and folk music, the film is, like Make Mine Music before it, the contemporary version of Fantasia (an ambitious film that proved to be a commercial disappointment upon its original theatrical release). Melody Time, while not meeting the artistic accomplishments of Fantasia, was a mildly successful film in its own right. It is the fifth package film, following Saludos Amigos, The Three Caballeros, Make Mine Music, and Fun and Fancy Free.
Parodies (Don't delete, but you can add some more)
Melody Time/Finding Nemo
and more
Ad blocker interference detected!
Wikia is a free-to-use site that makes money from advertising. We have a modified experience for viewers using ad blockers

Wikia is not accessible if you've made further modifications. Remove the custom ad blocker rule(s) and the page will load as expected.