Jimmyandfriends's movie-spoofs of "Alice in Wonderland"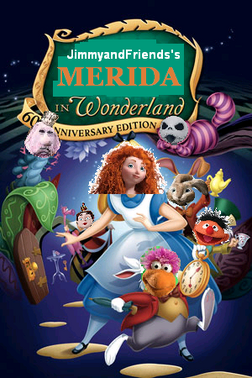 Cast:
Merida (Brave) as Alice
Queen Elinor (Brave) as Alice's Sister
Dot (A Bug's Life) as Dinah
Gobo Fraggle (Fraggle Rock) as The White Rabbit
The Doorknob as Himself
Wreck-It Ralph as Dodo
Woody and Buzz Lightyear (Toy Story) as Tweedledee and Tweedledum
Bob the Tomato and Larry the Cucumber (VeggieTales) as The Walrus and the Carpenter
Boober Fraggle (Fraggle Rock) as Bill the Lizard
Lucy Wilde (Despicable Me) as The Rose
Elsa (Frozen) as White Rose
Sugar Rush Racers (Wreck-It Ralph) as The Talking Flowers
Pa Gorg (Fraggle Rock) as The Caterpillar
Junior Gorg (Fraggle Rock) as The Caterpillar as a Butterfly
Daisy Duck (Disney) as The Bird in the Tree
Jack Skellington (The Nightmare Before Christmas) as The Cheshire Cat
Ernie (Sesame Street) as The Mad Hatter
E.B. (Hop) as The March Hare
Wembley Fraggle (Fraggle Rock) as The Dormouse
Spongebob Squarepants, Patrick Star and Squidward Tentacles (Spongebob Squarepants) as The Card Painters
Fraggles (Fraggle Rock) as The Cards
Queen Victoria (The Pirates! Band of Misfits) as The Queen of Hearts
Mr. Smee (Peter Pan) as The King of Hearts
The Flamingos as Themselves
The Hedgehogs as Themselves
Ad blocker interference detected!
Wikia is a free-to-use site that makes money from advertising. We have a modified experience for viewers using ad blockers

Wikia is not accessible if you've made further modifications. Remove the custom ad blocker rule(s) and the page will load as expected.