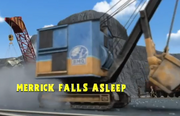 Merrick Falls Asleep
is the first episode of Season 17.
Plot
Merrick Is a new crane on The Blue Mountain Quarry, he become friend with Owen and Peter Sam, but Merrick sleeps too much. and one day, the little engines were tied of Merrick's snores, and that make Merrick sad, Mr. Percival was visiting the big engines when Skarloey derail his trucks in a siding, Rocky didn't know how he would put the trucks back on the rails, so Merrick rattled to the hill near the siding, and put Skarloey's trucks back on the tracks. and later, he thanks Merrick for the help, and didn't care about his snores.
Characters
Thomas
Skarloey
Rheneas
Owen
Merrick
Rocky (does not speak)
Sir Handel (does not speak)
Peter Sam (does not speak)
Rusty (cameo)
Duncan (cameo)
Paxton (cameo)
Mr. Percival (mentioned)
Trivia
Owen Mentions The Culdee Fell Mountain Railway in this episode.
Goofs
Duncan Doesn't Have couplings In The First scene of The Quarry.
Skarloey and Rheneas are out of character In this episode.
In this episode, the narrator says that Merrick is new, but he was seen in Blue Mountain Mystery