Mia Nin
Mia Nin
Herkunft
Erde
Rasse
Ihûth-nûr
Geburtsdatum
?
Alter
23
Familie
Mutter: Maeth Nin


Bruder: Tatsumaki (alternative Zeit)
Schwester: Mizu (alternative Zeit)

Haarfarbe
silber
Augenfarbe
blau
Größe
164cm
Gewicht
Will sie nich sagen^^
Waffe
Kampfstab
Techniken
Stabtechnik, Wasserzauber
Geschichte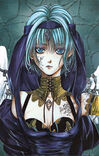 Ihre Mutter is
Maeth
, ihr Vater ist ihr Unbekannt. Sie lebt jetzt mit ihrer Mutter auf der
Erde
, weiß aber nichts über ihre Vergangenheit. Wird von ihrer Mutter zwar gut, aber nicht liebevoll behandelt, sie sieht ihrer Tochter auch sehr selten direkt in die Augen. Wurde von ihrer Mutter im Kämpfen mit Stäben unterichtet. Mia besitzt von ihrer Geburt an ein
Spiegel Amulett
, weiß aber nicht woher es stammt. Die
Magie
, die ihre Rasse (von der sie nichts weiß) eigendlich besitzt, benutzt sie nie bewusst (bleibt länger als normale Menschen unter Wasser ohne Luft zu holen), hat auch nur einen geringen Teil davon.
Mia ist auch die Wiedergeburt des Erzengels Gabriel!
Charakter
Wissbegierig, sehr nachdenklich (sitzt dabei oft einem See oder schwimmt darin), hat immer einen traurigen Ausdruck in den Augen und verhält sich auch meist dementsprechend. Traut sich auch nicht viel zu.
Stärken
Kann gut mit Kampf-Stäben umgehn, lange unter Wasser bleiben.
Schwächen
Kann Männer grundsätzlich nicht ausstehn. Ist etwas empfindlich gegenüber Feuer.
Ad blocker interference detected!
Wikia is a free-to-use site that makes money from advertising. We have a modified experience for viewers using ad blockers

Wikia is not accessible if you've made further modifications. Remove the custom ad blocker rule(s) and the page will load as expected.