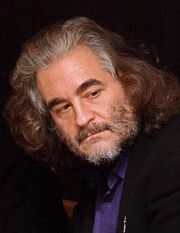 Michael Kamen (April 15, 1948 – November 18, 2003) was an American composer (especially of film scores), orchestral arranger, orchestral conductor, song writer, and session musician.
Kamen was born in New York City, USA and studied at the High School of Music & Art in New York (now Fiorello H. LaGuardia High School of Music & Art and Performing Arts), then at Juilliard's School for Music Dance and Drama in New York, where he learned to play the oboe.
He founded the New York Rock & Roll Ensemble in the late 1960s, which played classical-rock music presaging bands such as Electric Light Orchestra (ELO). Kamen played oboe and keyboards as well as composing. One of his songs Sing Lady Sing, was renamed Them Changes and parlayed into a hit by Buddy Miles.
He worked briefly with Leonard Berstein, when his rock ensemble appeared at one of Bernstein's concerts for young people.
His successes include his work with Pink Floyd, David Gilmour, Roger Waters (he is one of the few people to have been invited to work with both former Pink Floyd members, after their acrimonious split), Eric Clapton, Queen, Aeronsmith, David Bowie, Eurythmics, Queensrÿche, Rush, Metallica, Herbie Hancock, The Cranberries, Bryan Adams, Sting and Kate Bush.
In 1989 Kamen joined many other guests for Roger Waters' massive performance of The Wall in Berlin.
In 2002 he was part of the Concert for George as string conductor.
Kamen wrote eleven ballets, a saxophone concerto, and provided scores for the films such as For Queen and Country, Brazil, The Adventures of Baron Munchausen, Highlander, X-Men, Robin Hood: Prince Of Thieves, Licence to Kill, the Lethal Weapon & Die Hard series, Mr. Holland's Opus, Splitting Heirs, and many others. To this day the overture from Robin Hood: Prince Of Thieves is used by Morgan Creek Productions as their identifying theme. He also composed scores for both the From the Earth to the Moon and Band of Brothers series on HBO. He was nominated for two Academy Awards and won three Grammy Awards, two Golden Globes, two Ivor Novello Awards, an Annie and an Emmy. In television, his best known work was on the 1985 BBC Television serial Edge of Darkness, on which he collaborated with Eric Clapton to write the score. The pair were awarded with a British Academy Television Award for Best Original Television Music for their work. Kamen also worked with heavy metal giants Metallica, on a two day concert that was held in Berkeley, California, with the San Francisco Symphony. This S&M collaboration was a breakthrough for both music and the fans; the album went on to go multi-platinium in 2001.

Kamen formed a partnership with songwriting duo Bryan Adams and Robert John "Mutt" Lange in the 1990's and the three of them wrote 5 songs together. The success of these songs was remarkable, three number one hits in the US, two Oscar nominations, a Grammy, 2 Ivor Novello's and untold record sales. The list of the songs include:
(Everything I Do) I Do It For You - from Prince Of Theives
All For Love - from The Three Musketeers
Have You Ever Really Loved A Woman - from Don Juan De Marco
Star - from Jack
I'll Always Be Right There - written for 101 Dalmatians
His involvement with Mr. Holland's Opus, a film about a frustrated composer who finds fulfillment as a high school music teacher, led Kamen to create The Mr. Holland's Opus Foundation in 1996. The foundation supports music education through the donation of new and refurbished musical instruments to underserved school and community music programs and individual students in the United States. In 2005 the foundation created an emergency fund for schools and students affected by Hurricane Katrina.
Kamen was diagnosed with multiple sclerosis in 1997, although he died from a heart attack. His last recorded work appeared on Bryan Adams's album Room Service where he played the oboe and wrote the orchestration to 'I Was Only Dreamin', and finally Kate Bush's album Aerial in November 2005.
Michael Kamen is survived by his wife, Sandra Keenan-Kamen, and by his daughters, Sasha and Zoe.
External Links
Ad blocker interference detected!
Wikia is a free-to-use site that makes money from advertising. We have a modified experience for viewers using ad blockers

Wikia is not accessible if you've made further modifications. Remove the custom ad blocker rule(s) and the page will load as expected.