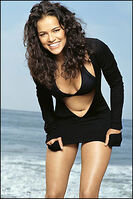 Michelle Rodríguez es una actriz de origen latina, conocida principalmente por sus roles de chicas fuertes y algo masculinas.
Su primer papel importante fue en la cinta Girlfight, la que la catapultó a la fama inmediata, ganando varios premios como actriz revelación. Luego ha participado en varias importantes películas Holliwodenses de gran renombre, aunque ninguna de la calidad de su primera incursión.
Tuvo un papel importante en la segunda temporada de la serie estadounidense Lost, la policía latina Ana Lucía.
Filmografía en Foronovelas
Ad blocker interference detected!
Wikia is a free-to-use site that makes money from advertising. We have a modified experience for viewers using ad blockers

Wikia is not accessible if you've made further modifications. Remove the custom ad blocker rule(s) and the page will load as expected.