Ad blocker interference detected!
Wikia is a free-to-use site that makes money from advertising. We have a modified experience for viewers using ad blockers

Wikia is not accessible if you've made further modifications. Remove the custom ad blocker rule(s) and the page will load as expected.
Welcome to the Mickey and Br'er Rabbit's Adventure Series!
Join Mickey Mouse and Br'er Rabbit as they go outside of their home, Briar Patch to the Disney/Non-Disney worlds and save the day at the same time.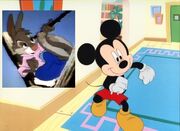 Movies
Disney
1930s
1940s
1950s
1960s
1970s
1980s
1990s
Non-Disney
1930s
1940s
1950s
1960s
1970s
1980s
1990s
Intro/Ending Music