Welcome to the wiki for the youth group at Middletown Road Baptist Church in Pittsburgh, Pennsylvania. This wiki is just getting started, so please bear with its incompleteness.
To edit the page or a section, log in and click an Edit link. If you need help, the edit page always contains a link to the editing tutorial. Wikipedia has more detailed editing help.
Upcoming events
They exist. We just need to put them here.
Recent events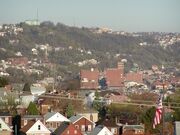 In January we had our scavenger hunt, which took us all over town.
People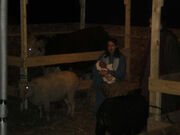 The church youth pastor is Pastor Rew. Nick and Rachael work side-by-side with him to lead the crew. The most outspoken teen is (insert name here). The boldest witness for Christ is (insert name here). The quietest is (insert name here). And the one who looks most like Mary in the Bible is Amanda.
Youth wiki challenge
We're looking for the best picture of Pastor Rew in a funny hat. Who can nab one and post it?
Ad blocker interference detected!
Wikia is a free-to-use site that makes money from advertising. We have a modified experience for viewers using ad blockers

Wikia is not accessible if you've made further modifications. Remove the custom ad blocker rule(s) and the page will load as expected.