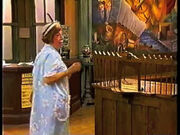 Midge Smoot is a character on Shining Time Station first seen in Word's Out, becoming a regular character in seasons two and three. Midge really likes to gossip. She is also the president of the "Friends of the Flowery Catcus Ladies' Auxillary" club.
Counterparts
Birdo, Mecha-Birdo, Kammy Koopa, or Wendy O. Koopa Super Mario Bros)
Mama Robotnik, Princess Kupacious, Breezie, Wave the Swallow, Zeena, Katella, Rouge the Bat, or Zorabel (Sonic the Hedgehog)
Agnes Skinner or Edna Krabappel (The Simpsons)
Diane Simmons, Angela or Connie D'Amico (Family Guy)
Gypsy or The Queen (A Bug's Life)
Grandma Thora (Arthur)
Aunt Myrtle (The Wubbulous World of Dr. Seuss)
Ms. Fowl (Jimmy Neutron)
Mrs. Cutler (Scooby Doo)
Mrs. Estelle Dabney (Good Luck Charlie)
Lovey Asparagus, Archibald's wife (VeggieTales)
Mrs. Brinks (Angela Anaconda)
Bonnie (Kim Possible)
Kathy Copter (Cars)
Katnappe (Xiaolin Showdown)
Madame Morrible (Wicked)
Mawile (Pokemon)
Sheila Broflovski (South Park)
Marsha (Fanboy and Chum Chum)
Numbuh 86 (Codename: Kids Next Door)
Miss Pink Cat (Noddy's Toyland Adventures)
Courtney, Staci or Scarlett (Total Drama)
Granny Dryden (Postman Pat)
Diamond Tiara, Trixie Gilda the Griffon (My Little Pony: Friendship is Magic)
Me-Mow (Adventure Time)
Flashwing (Skylanders)
Rita's Grandmother (Flushed Away)
Ms. Mucus (Camp Lazlo)
Butters Stoch's Grandma (South Park)
Miss Taylor (Pete's Dragon)
Javior Rios (Monsters University)
Ma Beagle (DuckTales)
Tiffany, Tempestra, Viral, or Shreeka (Teenage Mutant Ninja Turtles)
Queen Machina or Trakeena (Power Rangers)
Gnorga (A Troll in Central Park)
Juri Han (Street Fighter)
Ad blocker interference detected!
Wikia is a free-to-use site that makes money from advertising. We have a modified experience for viewers using ad blockers

Wikia is not accessible if you've made further modifications. Remove the custom ad blocker rule(s) and the page will load as expected.