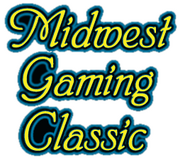 Presented by The GOAT Store, the Midwest Gaming Classic, is an annual retrogaming convention for the classic video game fans. The expo is open to the general public.
The Midwest Gaming Classic is usually held in June of each year in Wisconsin. The Expo was held in May in 2004, but it was decided that June is a better time for a show such as this.
Many video game developers for classic systems show off their upcoming games and game-related hardware at the event. They also often sell their games for the first time at the convention, or sell their recently released games there.
The convention is home to a large pinball area, as it is located close to Illinois, the heart of pinball. Stern Pinball, the only current producer of arcade pinball machines, sponsors the event.
History
The Midwest Gaming Classic started life as the Atari Jaguar Festival 2K1 on June 30, 2001. It was known as the Midwest Classic from 2002 to 2003. In 2004, Classic was added to the title.
In 2002, a Dreamcast demo disc was distributed, including a demo of Feet of Fury. GOAT Store Publishing would present the commercial version of Feet of Fury at the Midwest Gaming Classic in 2003. Inhabitants and Maqiupai, the winners of the first annual Dream On Contest, held jointly between Cyberdog Castle and The GOAT Store were first demoed at the convention in 2004.
In 2005, the Midwest Gaming Classic was not held. GOAT Store Publishing's newest announced game, GOAT Games, would be revealed at the first annual DreamCon game convention at the East Coast Gaming Expo instead.
In 2006, the Midwest Gaming classic returned, and hosted the second stop of the second annual DreamCon game convention. 11 new games were revealed, and new information was revealed about GOAT Games.
Layout
The convention has grown over the years. It was originally held in a cafeteria. It is now a full-fledged game convention with three halls. The main hall houses the arcade games and pinballs, as well as the resellers. The exhibition hall houses the DreamCon Dreamcast game convention and the Atari Jaguar convention Jagfest, as well as a classic computer and video game exhibition. The third hall houses the computer and video game museum, showcasing video games from the 1970s to the present. There is also a conference room, where conferences are held by video game industry legends such as Ralph Baer and Scott Adams.
External links
Ad blocker interference detected!
Wikia is a free-to-use site that makes money from advertising. We have a modified experience for viewers using ad blockers

Wikia is not accessible if you've made further modifications. Remove the custom ad blocker rule(s) and the page will load as expected.