Mikan Yuuki 
is a character from
To Love-Ru
.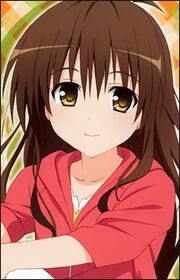 Counterparts
Pearl (TUGS)
Rosie (Thomas)
Cream the Rabbit (Sonic the Hedgehog)
Tiff (Kirby)
Princess Daisy (Super Mario Bros.)
Fluffles (Wallace and Gromit)
Meg Griffin (Family Guy)
Abby Cadabby (Sesame Street)
June (Kablam!)
Hahli (Bionicle)
May or Misty (Pokemon)
Viper (Kung Fu Panda)
Shareena Wickett (Detention)
Lor McQuarrie (The Weekenders)
Mabel Pines (Gravity Falls)
Connie (Steven Universe)
Terra (Teen Titans)
Iris (Ruby Gloom)
Elmyra Duff (Tiny Toon Adventures)
Kathy (Barney and Friends)
Kessie (Winnie the Pooh)
Annie Sue Pig (The Muppet Show)
Lisa Simpson (The Simpsons)
Bebe Stevens (South Park)
Yori (Kim Possible)
Cho Chang (Harry Potter)
Cindy Lou Who (Dr. Seuss)
D.W. Read (Arthur)
Perfect Peter (Horrid Henry)
Dot Warner (Animaniacs)
Symphony Angel (Captain Scarlet and The Mysterons)
Dee Dee (Dexter's Laboratory)
Parodies
Ad blocker interference detected!
Wikia is a free-to-use site that makes money from advertising. We have a modified experience for viewers using ad blockers

Wikia is not accessible if you've made further modifications. Remove the custom ad blocker rule(s) and the page will load as expected.