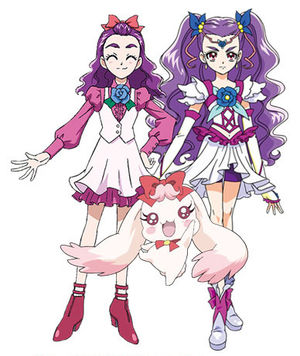 Milk is a white-and-pink lop rabbit who debuted in Yes! Pretty Cure 5. She ends her sentinces with -miru. Unlike Coco and Natts she was unable to transform into a human. She takes her role as caretaker seriously, along with most other things. Most of the time, she is seen nagging with Nozomi because of the latter's goofy attitude. However, Milk learns to have faith in Pretty Cure, and has a strong urge to help them whenever they are struggling.
Counterparts

 WARNING: You may add appropriate counterparts. But, do NOT delete any.
Emily (Thomas)
Terra (Teen Titans)
Ty Lee (Avatar: The Last Airbender)
Ad blocker interference detected!
Wikia is a free-to-use site that makes money from advertising. We have a modified experience for viewers using ad blockers

Wikia is not accessible if you've made further modifications. Remove the custom ad blocker rule(s) and the page will load as expected.