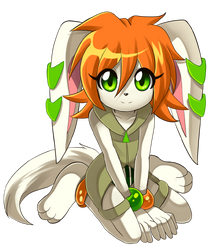 Milla is the tritagonist of Freedom Planet.
Counterparts
Rosie (Thomas the Tank Engine and Friends)
Sally Seaplane (TUGS)
Sunshine (Salty's Lighthouse)
Pugwash (Theodore Tugboat)
Cream the Rabbit (Sonic the Hedgehog)
Irma Langenstein (Teenage Mutant Ninja Turtles)
Fifi LaFume (Tiny Toon Adventures)
Birdo (Super Mario Bros)
Ad blocker interference detected!
Wikia is a free-to-use site that makes money from advertising. We have a modified experience for viewers using ad blockers

Wikia is not accessible if you've made further modifications. Remove the custom ad blocker rule(s) and the page will load as expected.