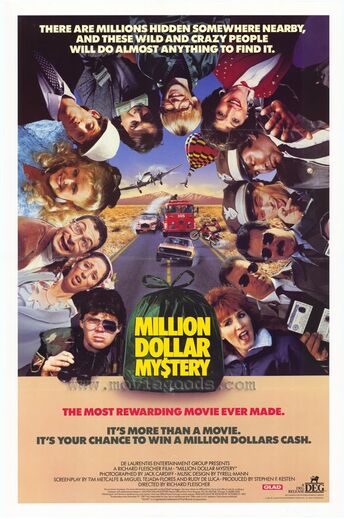 Million Dollar Mystery
is a 1987 American farcical slapstick screwball car chase epic comedy heist film released by 
Universal Studios
and
Amblin Enterainment
. It was directed by 
Richard Fleischer
and written by
Tim Metcalfe
and based on the Story Idea by 
Michael Jeter
,
John Hughes
,
Joe McEveety
,
Tim Conway
,
Don Knotts
,
Preston Sturges
,
Carl Reiner
,
Sid Caesar
,
John Swartzwelder
,
William Rose
,
Tania Rose
,
Rudy De Luca
,
Mel Brooks
,
Ivan Reitman
,
Dan Aykroyd
,
Harold Ramis
,
Stanley Kramer
,
Mack Sennett
,
Buck Henry
,
Peter Bogdanovich
,
Marvin Kaplan
,
Al Hirschfeld
,
Imogene Coca
,
The Farrelly Brothers
,
John Landis
,
Neil Simon
,
Woody Allen
,
Hal Roach
,
Joe Besser
and
Gene Wilder
.
The film was released with a promtional tie-in and product placement for Glad-Lock brand bags, Coca-Cola and Pizza Hut. It's inspired by the 1963 Comedy It's a Mad, Mad, Mad, Mad World and follows the plot faithfully along with many other chase comedies.
The film is an offical remake of the chase comedies, It's a Mad, Mad, Mad, Mad World, Scavenger Hunt, No Deposit, No Return, Fat Fry, Something a Little Less Serious, What's Up, Doc?, The Love Bug, Herbie Rides Again and The Cannonball Run.
The film was a box office hit but critical failure, earning more than $124 million in the US with an estimated budget of $10 million. It also currently holds a 100% "rotten" rating on Rotten Tomatoes.
Plot
The dejected Hunters, now immobile in a Hospital in Bandages and Casts, blame one another for their predicament, as well as criticizing the Prestons and the Tricklers for seizing the Money.
The plot follows faithfully to the madcap comedy of the 1980s.
Cast
Production
Theatrical Trailer
Narrator: Throught the History of Motion Picture, there had been many great Chase Comedies. The Keystone Kops are always on Hot Pursuit. The Three Stooges always get into Trouble. It's a Mad, Mad, Mad, Mad World gets the World Laughing out loud by Storm. Herbie the Love Bug always wins First Place in a Frantic Race. But now, Ivan Reitman, who brought you Ghostbusters and Stripes.
TV Spots
Script for TV Spot 1:
Narrator: Critics everywhere are calling "Million Dollar Mystery", "One of the Most Craziest Comedies ever made", "It's Howlingly Funny", "Wacky", "Fast-Paced Fun". "Million Dollar Mystery is a Rib-Tickling, Zany, Madcap, Outrageous Romp that's Mad, Mad, Mad". Siskel and Ebert gives it "Two Thumbs Up". Don't miss, the Movie Critics are calling "The Funniest Farce for everybody". Million Dollar Mystery, Rated PG.
Parodies

 WARNING: You may add parodies. But, do NOT delete any. Complete parodies list
Ad blocker interference detected!
Wikia is a free-to-use site that makes money from advertising. We have a modified experience for viewers using ad blockers

Wikia is not accessible if you've made further modifications. Remove the custom ad blocker rule(s) and the page will load as expected.