Mimmy White is Hello Kitty's cute and beautiful twin sister and playmate. Mimmy wears a yellow bow on her left ear while Kitty wears a red bow on her right and is also mouthless like her sister. Mimmy seems to have a slightly less outgoing, but more polite and thoughtful personality than Kitty does, and they seem to highly enjoy each other's company.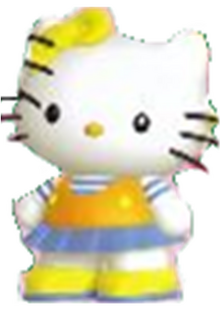 She lives in Solaria planet with her sister Hello kitty, She also has a mom and a dad. Her grandma and grandpa are also often shown. They live in London in a small house.
Is Yoshi's best friend
Ad blocker interference detected!
Wikia is a free-to-use site that makes money from advertising. We have a modified experience for viewers using ad blockers

Wikia is not accessible if you've made further modifications. Remove the custom ad blocker rule(s) and the page will load as expected.