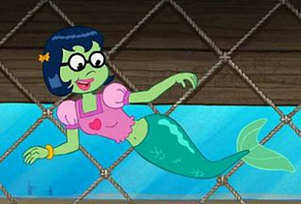 Mindy
is King Neptune's daughter from the 
SpongeBob SquarePants
 movie. She is voiced by
Scarlett Johannson
.
Counterparts (Do not delete, but you can add)
Cream, Amy Rose, Blaze the Cat, Bunnie Rabbot, Princess Sally Acorn, Marine the Raccoon, Sonia, Cosmo the Seedrian, or Dulcy (Sonic the Hedgehog)
Prunella Deegan (Arthur) 
Emily Coleman or Toadette (SML)
Honey, Ribbon, or Tiff (Kirby)
May Kanker (Ed, Edd, 'n' Eddy)  
Masami or Carrie (The Amazing World of Gumball)
Gwen (Total Drama) 
Flame Princess (Adventure Time) 
Calumon (Digimon Tamers)
Kala or Venus (Teenage Mutant Ninja Turtles)
Iris (Mega Man X)
Ad blocker interference detected!
Wikia is a free-to-use site that makes money from advertising. We have a modified experience for viewers using ad blockers

Wikia is not accessible if you've made further modifications. Remove the custom ad blocker rule(s) and the page will load as expected.