Els minerals
Un mineral és un sòlid homogeni que es presenta de manera natural i que té una estructura interna ordenada i una composició determinada. Els minerals són compostos naturals formats a partir de processos geològics.
El terme mineral té en compte no només la composició química del material, sinó també la seva estructura. Es coneixen milers de formes de minerals, des dels compostos per element químics o sals senzilles, fins als més complexos, com alguns tipus de silicats. Normalment, els compostos orgànics no es consideren minerals. La mineralogia es l'estudi dels minerals.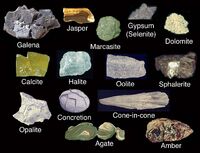 Ad blocker interference detected!
Wikia is a free-to-use site that makes money from advertising. We have a modified experience for viewers using ad blockers

Wikia is not accessible if you've made further modifications. Remove the custom ad blocker rule(s) and the page will load as expected.