Miss Agatha Trunchbull is the mean headmistress of Crunchem Hall Elementary School and She is the main Antagonist from Matilda.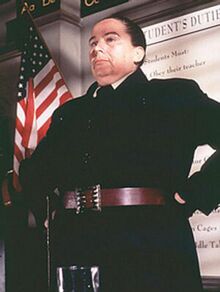 Counterparts
Daisy (Thomas & Friends)
Rosy the Rascal, Fiona Fox or Mama Robotnik (Sonic The Hedgehog)
Sarah (Ed, Edd, N Eddy)
Sedusa (The Powerpuff Girls)
Wuya (Xiaolin Showdown)
Vicky (The Fairly Oddparents)
Mrs. Tweedy (Chicken Run)
Piella Bakewell (Wallace and Gromit)
Queen Victoria (The Pirates! Band Of Misfits)
Raska (Cubix: Robots For Everyone)
Queen Chrysalis (My Little Pony)
Dolores Umbridge (Harry Potter)
Madame Amberly (Crash Bandicoot)
Shelly Marsh (South Park)
Heather, Courtney, Eva, Anne Maria, Jo, Amy, Scarlett or Sugar (Total Drama)
Marsha (Fanboy & Chum Chum)
The Queen Of Hearts (Alice In Wonderland)
Soccer Mom (Codename: Kids Next Door)
Ursula (The Little Mermaid)
Mother Gothel (Tangled)
Cruella de Vil (101 Dalmatians)
Jadis (Narnia)
The Evil Queen (Snow White and The Seven Dwarfs)
Ad blocker interference detected!
Wikia is a free-to-use site that makes money from advertising. We have a modified experience for viewers using ad blockers

Wikia is not accessible if you've made further modifications. Remove the custom ad blocker rule(s) and the page will load as expected.