Miss Jennifer Honey is a Friendly and Kind-Hearted Teacher, and She is a supportive Protagonist from Matilda.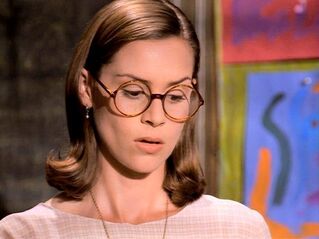 Counterparts
Emily (Thomas & Friends)
Lillie Lightship (TUGS)
Princess Peach (Mario)
Amy Rose, Vanilla the Rabbit, or Princess Sally Acorn (Sonic The Hedgehog)
Penny Morris (Fireman Sam)
Florence (The Magic Roundabout)
Little Miss Sunshine (Mr. Men)
Ms. Keane (The Powerpuff Girls)
Nazz (Ed, Edd, N Eddy)
Kimiko Tohomiko (Xiaolin Showdown)
Isabella Garcia-Shapiro (Phineas and Ferb)
Lady Campanula Tottington (Wallace and Gromit)
Abby (Cubix: Robots For Everyone)
Princess Cadence (My Little Pony)
Coco Bandicoot (Crash Bandicoot)
Marge Simpson (The Simpsons)
Lois Griffin (Family Guy)
Wendy Testaburger (South Park)
Gwen, Bridgette, Lindsay, LeShawna, Zoey, Dawn, Dakota, Sammy, Sky, Jasmine or Ella (Total Drama)
Yo (Fanboy & Chum Chum)
Dexter's Mom (Dexter's Laboratory)
Numbuh 362 (Codename: Kids Next Door)
Tessie Bear (Noddy's Toyland Adventures)
Alice's Older Sister (Alice In Wonderland)
Mrs. Mary Darling (Peter Pan)
Snow White (Snow White and The Seven Dwarfs)
Cinderella (Cinderella)
Belle (Beauty and The Beast)
Queen Elsa (Frozen)
Ad blocker interference detected!
Wikia is a free-to-use site that makes money from advertising. We have a modified experience for viewers using ad blockers

Wikia is not accessible if you've made further modifications. Remove the custom ad blocker rule(s) and the page will load as expected.