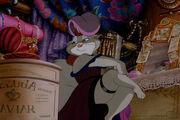 She is a character from An American Tail - Fievel Goes West. He loves Tiger in the movie.
She appears with Sergeant Tibbs and Marie when Marie got adopted at the end in the movie.
She appears in the Heaven and meets Tiger aka Charlie when he is appeared in the Heaven.
[[ As Ms. Potts in Beauty and the Fat Cat
[[ As Zazu in Oliver the Woodpile Cat
[[ As Jessica Rabbit in Who Framed Nobita Nobi?
[[ As Scullery Maid in The Sword in the Rock
[[ As Dylis Price in Fireman Basil
[[ As Bella Lasagne in Fireman Bagheera
[[ As Kala in Nobirzan
[[ As Yzma in Oliver's New Groove and Nobita's New Groove
[[ As Nobita's Mother in Merlemon (Ultratag Version)
[[ As Queen Uberta in The Fox Princess
[[ As Sarafina in The Cat King
[[ As Sarabi in The Kitten King (Ver.11)
[[ As Mrs. Jumbo in Toby (a.k.a Dumbo)
[[ As Tantor's Mother in Fievelzan
Ad blocker interference detected!
Wikia is a free-to-use site that makes money from advertising. We have a modified experience for viewers using ad blockers

Wikia is not accessible if you've made further modifications. Remove the custom ad blocker rule(s) and the page will load as expected.