Ecological Communities
General Information
You will be divided into groups of 4-6.
Each group will pick a strata (layer) of the rain forest and research the community present within it.

Each member will choose a different aspect of the community to report on (animals, plants, weather, location of resources, etc).
The group portion of this is that you will have to present your personal findings to the rest of the group and then discuss how each aspect is interrelated and what contributions each makes to the community.
You may help edit each others' pages, but DO NOT have one person do all the work, and ask permission from your group member before making changes.

Communicate with each other so that the final draft is coherent and stubs relate to each other (flows smoothly).
There will also be a class page that everyone will need to work on and edit. It will take a look at the rain forest as a whole, including interactions that occur between the different strata. This will require communication and cooperation. Make it work!
References such as Wikipedia should only be used to find reliable sources. Make sure to cite sources used; plagiarism is not acceptable.
Have fun! Be creative!

Due Date: You will have a month to complete this assignment. This means it should look good, and contain credible information. I will look weekly on the site to check on progress and provide feedback. A class presentation of the work will follow. Extra credit to those who want to present the class page.
Pages to be Edited
(Entire class)
The Rainforest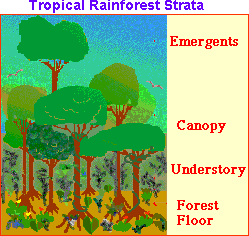 Strata of the Rain Forest
(Groups)
Helpful Sites
Kennesaw State University [1]
BBC Schools [2]
Blue Planet Biomes [3]
Miss Smith's Student Research Project at Wikia
---
[
]
Welcome to the Miss Smith's Student Research Project mini wiki at Scratchpad!
You can use the box below to create new pages for this mini-wiki. Make sure you type [[Category:Miss Smith's Student Research Project]] on the page before you save it to make it part of the Miss Smith's Student Research Project wiki (preload can be enabled to automate this task, by clicking this link and saving that page. Afterwards, you may need to purge this page, if you still see this message).
Ad blocker interference detected!
Wikia is a free-to-use site that makes money from advertising. We have a modified experience for viewers using ad blockers

Wikia is not accessible if you've made further modifications. Remove the custom ad blocker rule(s) and the page will load as expected.