Mistyczne Berło Przeszłości.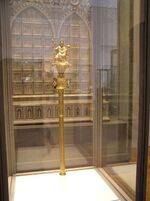 Przepowiednia głosi, że gdy nadejdzie czas apokalipsy Wszechmocny Tlen oczyści wszystkich wyznawców od ich grzechów. Berło zostało ofiarowane ludowi przez Wszechmogącego w Świątyni Hatszepsut. W V w. p.n.e., podczas oblężenia świątyni przez wojska egipskie, Berło zaginęło aby zostać odnalezione dopiero w XV w. na terenach dawnej Jugosławii. Naukowcy z instytutu archeologicznego imienia Kel-Talesa odczytali pradawne napisy wyryte na Berle: "Oczyszczenie jest blisko". W interpretacji Księgi Życia te słowa odznaczają, że nadejście Wielkiego Tlena się zbliża. Na terenie gdzie Berło zostało odnalezione wyrosło wielkie drzewo, którego nie da sie ściąć. Jego korzenie sięgają ponad 300 metrów pod ziemię, natomiast wysokość drzewa wynosi ponad 1km. Mieszkańcy tych terenów twierdza, że z każdym tygodniem drzewo przemieszcza się w stronę Polski.
Zobacz też:
Ad blocker interference detected!
Wikia is a free-to-use site that makes money from advertising. We have a modified experience for viewers using ad blockers

Wikia is not accessible if you've made further modifications. Remove the custom ad blocker rule(s) and the page will load as expected.