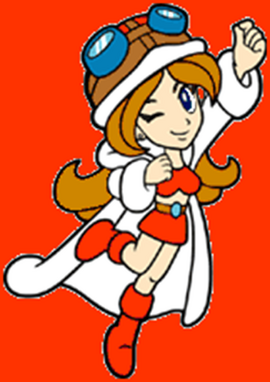 Mona Destella
is an Character of 1997 Tajaha Saga
WarioWare
. she is the Deuteragonist of the Games of Warioware, Inc. (And One of the Main Protagonists of
WarioWare: Portfolio Cartoon
) she is an High school Cheerleader. she is Also an WarioWare Printer Member & Leader of the Girl Power Group.
Bio
Gender: Female
Species: Human
Alignment: Good
Age: 17
Occupation: High School Cheerleader, WarioWare Printer, "Mona Pizza" Waitress, Rock n' Roll Guitarist & "The Girl Power" Team Guitarist/Leader
Personal Color: Scarlet Red (Sapphire Blue in WarioWare Portfolio Cartoon)
Boyfriend: Wario (Officially)
First Introduced: WarioWare 1 (1997)
WW: Portfolio Cartoon Debut: S01 E01A

: A Great Day for Wario

.
Friends: Wario (Boyfriend), Orbulon, Penny (Best Friend), Ashley (Second Best Friend), Tony, Dribble, Spitz, Kat, Ana, Young Cricket, Jimmy. T, Jimmy. P, 9-Volt, 18-Volt, Dr. Crygor, Mike, Waluigi, Mini-Wario.
Rivals: Vanessa (Arch-Rival), Princess Tangerine (formerly).
Enemies: Dr. Ventor (Kidnapper in Some Games), Black Jewel, Captain Syrup, Splunks, The Dinosaurs (Arch-Enemies), Muncher the King.
Enemies (WarioWare: Portfolio Cartoon): Deadrabbit, Virusis, Henlarsey (Haunt), Clarky, .
Trivia
Mona resembles Physically on Misty from Pokemon & Tawna Bandicoot from Furze Bandicoot, but with the Difference mona Wasn't Forbidden from the Rest of the Main saga as Tawna.
Counterparts (WarioWare (T,J&H Productions) Version) (Female Version) (Heroine Version)
Counterparts (WarioWare: Portfolio Cartoon Version)
Gallery