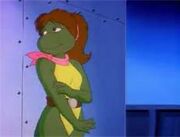 Mona Lisa
is a Teenage Mutant Ninja Turtles character who appears in the classic series.
Bio
Species: Mutant salamander Alignment: Good Likes: Raphael, the other turtles Dislikes: Captain Filtch, the Foot Weapons: Ninja Nail File Sai, Gila Stun Gun
Counterparts
Lady, Emily, Mavis or Rosie (Thomas & Friends)
Rouge the Bat, Sally Acorn, Amy Rose, Breezie, Miss Possum or Julie-Su (Sonic The Hedgehog)
Gia (Madagascar)
Gatomon or Lopmon (Digimon)
Rapunzel (Tangled)
Daisy-Head Maisy (Dr.Seuss)
Pearl Krabs, Ms. Puff, or Squillivia (SpongeBob SquarePants)
Alisa Bosconovitch (Tekken)
Malla (Star Wars)
Videl (Dragon Ball Z)
Carol Tea (Freedom Planet)
Counterparts (evil version)
Ad blocker interference detected!
Wikia is a free-to-use site that makes money from advertising. We have a modified experience for viewers using ad blockers

Wikia is not accessible if you've made further modifications. Remove the custom ad blocker rule(s) and the page will load as expected.