Plot
Kids will learn important lessons about trusting in God and handling hurt. Featuring two exciting VeggieTales adventures - 
Gideon, the Tuba Warrior 
and 
The Tale of an Empress
, this shows the importance of using our gifts for other people and doing what is right.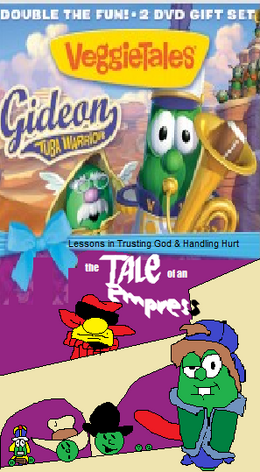 Gideon: Tuba Warrior
Bob, Larry and the rest of the gang break out the band gear in Gideon: Tuba Warrior, teaching kids a lesson about trusting in God. The Pirates Who Don't Do Anything host this incredible story of one of the greatest heroes of all time as Gideon is carefully chosen to defend his people against an undefeated army of over 30,000 excessively hairy and malevolent pickles. 
The Tale of an Empress
Played by Petunia Rhubarb and Larry the Cucumber, Huck and the empress both teach kids that no hurt is too big for God! When Hamlin (Mr. Lunt) comes to Persia planning to kill them, Huck and the empress find themselves in deep trouble with Hamlin. Can they escape with their life? Will Hamlin win or will Huck and the empress succeed? Should Huck come to the rescue? Could he stop the problematic situation? Would Huck, along with the empress, a group of the Persians that bow down to the statues of Mayor Asiris, and a small group of peas and carrots armed only with band instruments and flashlights drive off this ruthless gourd? And when the smoke clears and the story ends, who will be left living on the banks of the Mississippi River?
DVD Artwork
Front Cover
Back Cover
Bonus Features
A Real Drum Line
Gideon Trivia
Gideon Storybook
Turtle Toobies Game
How to Draw Gideon
Singalongs:

Lance the Turtle
Obscure Christmas Party
Hamlin's Song

Friends of VeggieTales
Scene Index
Countertop Intro Gideon: Tuba Warrior
George Mueller
Ukelele Karaoke with Bob
Gideon: Tuba Warrior
QWERTY Closer Gideon: Tuba Warrior
Countertop Intro The Tale of an Empress
The Tale of an Empress Part One
Obscure Christmas Party with Scottish Larry
The Tale of an Empress Part Two
QWERTY Closer The Tale of an Empress
Ad blocker interference detected!
Wikia is a free-to-use site that makes money from advertising. We have a modified experience for viewers using ad blockers

Wikia is not accessible if you've made further modifications. Remove the custom ad blocker rule(s) and the page will load as expected.